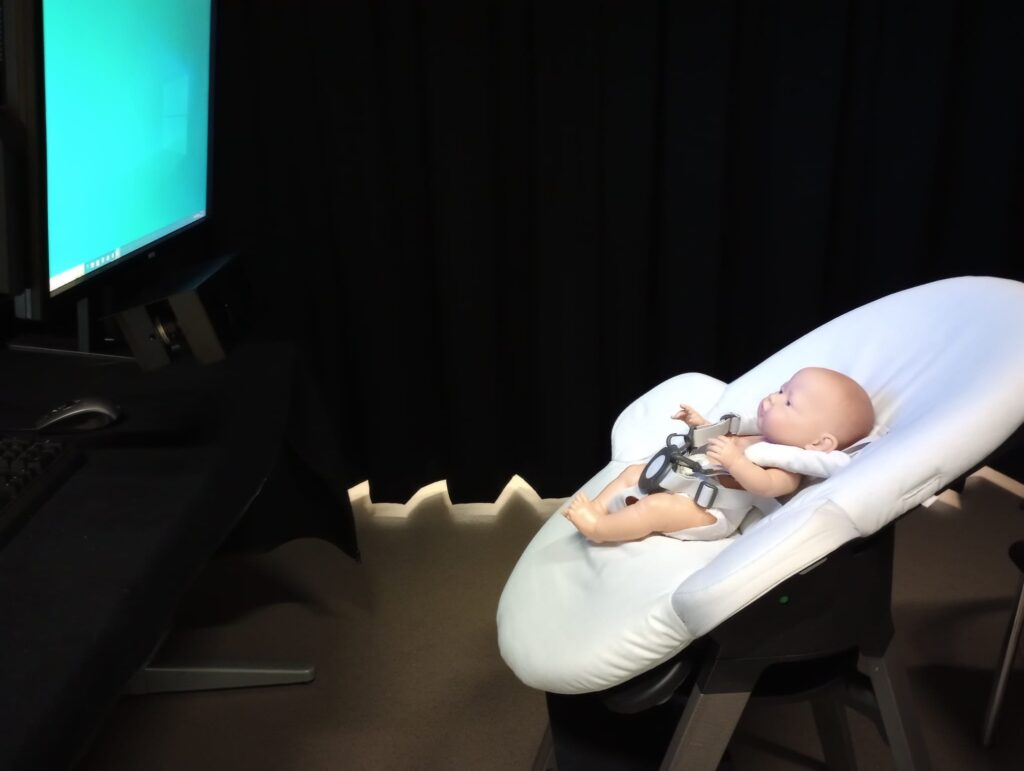 A visit to the Baby Lab usually takes between 30 minutes and 1 hour. Your baby will only participate in a task that takes between 5 and 10 minutes and the rest of the time will be dedicated to explaining the study, giving you the instructions, and helping your baby feel comfortable in our lab. At all times, you will be together with your baby. In the majority of our tasks, babies usually sit on a high chair and their parents sit on a chair behind them.
Most often we show babies animated movies or images on a computer screen or we let them listen to interesting sounds. Sometimes we have tasks where you interact with your baby, for example by playing a short game with them. Before you and your baby come to our lab, we send all the information about the study you are going to participate in via email, so that you know what to expect from the visit!
Our main goal is that you and your baby have a great time at our lab. We love doing research, but what we love the most is a happy baby! You can feed or change your baby if needed. Your baby can play on our playmat and take their time until they feel ready to start a task. All our tasks are infant friendly and they are specially designed to be attractive and fun. However, each baby has their preferences and we respect and encourage that – should your baby not like our tasks, we will stop at any time.
By joining our studies, your baby contributes to fundamental research that will help us understand how to better support children in their development. We hope to welcome you to the lab for a fun and special experience!
Looking forward to meeting you,
Team Baby Lab